Last week was exam week and on Friday there was no school, so my friends and I decided to go skiing! I hadn't gone since two years ago, but it appears that there are just some things we don't forget. Skiing being one of them. Well, actually I snowboarded. I used to ski, but I stopped about 6 or 7 years ago. There was a time when I did both!
The weather was quite fantastical and so was the view- mountains, ocean, and all.
Oh! And I had the opportunity of wearing the Stitch hat I got when I was in DisneyWorld over Christmas/New Year's. I like it quite a lot! One of the chairlift attendents thought they were gremlin ears... but some people knew. :D
Here is the best picture ever!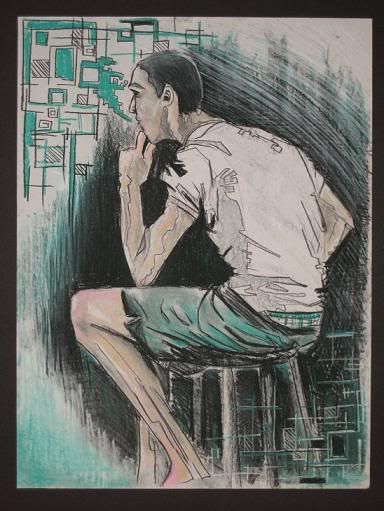 I haven't gone to a figure drawing session since mid December... but I'm going tomorrow evening! So that's exciting.
And here's a drawing I did in November, when the model didn't show up. I included it in my portfolio to the holy school of animation... *crosses fingers*